In this last year, with the pandemic, not only are we more stressed but unable to maintain our routine salon visits. Although it's easy to neglect ourselves when things are changing and when our environment becomes more stressful, I made it a point to revisit how I could prioritize self-care from home. More than ever, human connection, touch, and relaxation are a priority to me at this time. After some careful consideration, I wanted to revisit a ritual we were introduced to from our childhood — hair oiling. My sister and I get together to catch up every few weekends, and when we do she and I take turns giving each other hair oil massages.
The process of hair oiling is incredibly nostalgic for us. Growing up, I remember sitting down with my mom or Nani (Maternal Grandmother) in the evenings a few times a week and taking turns between my sister, me, and the other women in the family to get our hair oiled. This practice extends past conditioning our hair, it has always been a time to catch up, bond, and get a much needed massage. This beauty ritual is beautifying just as much as it helps us to recenter and feel calm — not just for the individual receiving the hair oiling treatment but also for the giver because human touch and intimacy have such powerful benefits to all.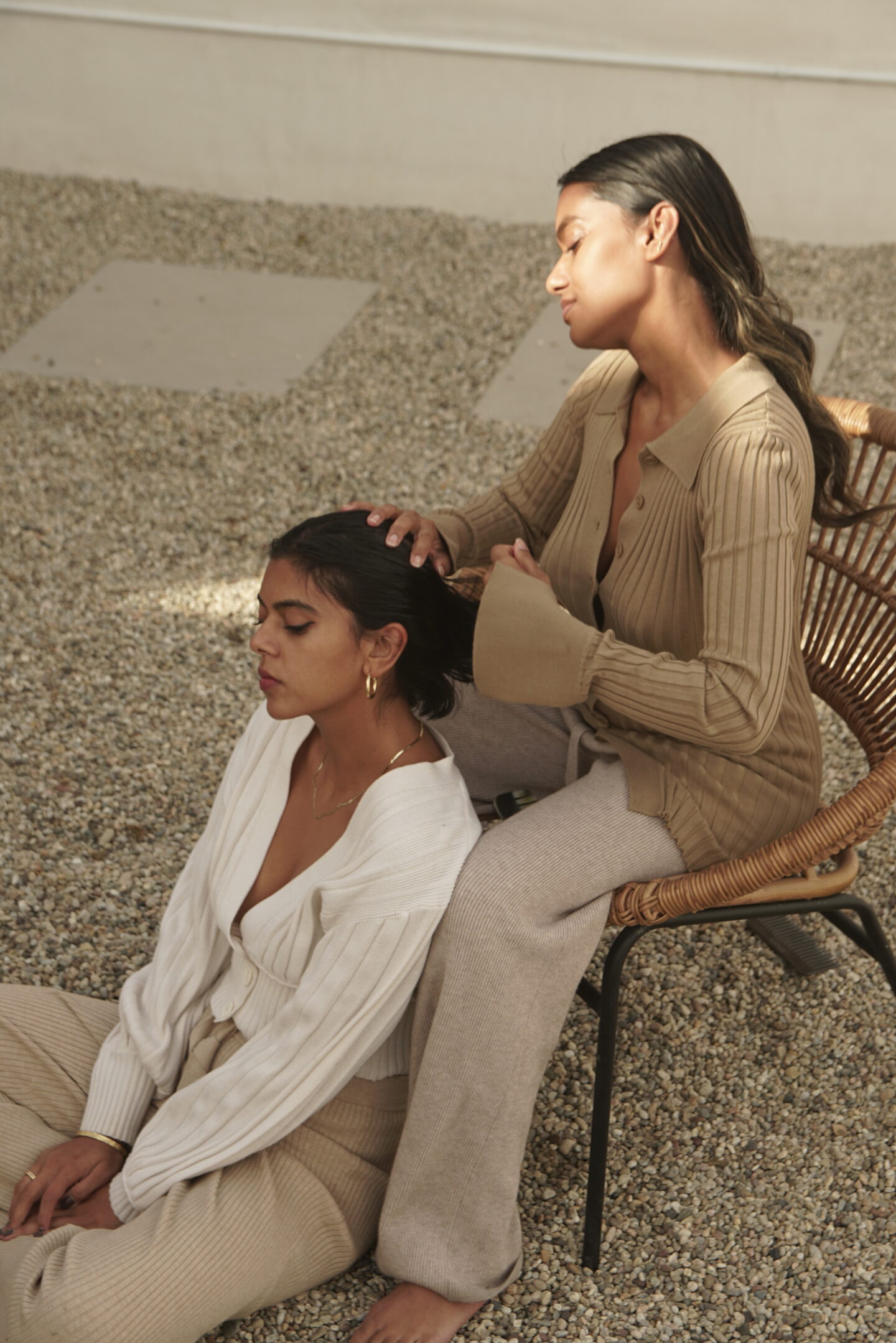 This ancient Ayurvedic practice has been passed down from generation to generation. Familial recipes and oil favorites have also been passed down, each with unique benefits. Castor oil is especially popular in East Asia for its omega-6 fatty acids that help nourish the hair. Sesame and coconut oil are popular as well. Sesame is known to clean the scalp by clearing bacterias and reducing dandruff while coconut oil is lovely in the summer because of its cooling effects. Also, organic olive oil has vitamin E and A making it a good option for dry or itchy scalps.
Here, I'm using the Fortifying Hair Serum: Mighty Majesty, by Ranavat. This is a go-to for me because it contains amla extract that includes a high concentration of oleic acid, vitamin C, and vitamin E, jasmine oil, and sunflower oil to control breakage, strengthen and repair dry/damaged hair, and nourish the scalp.
Hair Oiling Benefits:
The healing benefits of hair oiling are vast, from comforting physical touch and relieving tension held in the head to stimulating blood circulation in the scalp. Hair health starts with the scalp. Massaging oils into the scalp with a head massage is a key part of hair oiling. Kneading the scalp is relaxing for the mind and body, but it also stimulates circulation, moisturizes and exfoliates at the root. Not only does this destress and release tension, but it also promotes thicker and healthier hair growth.
How to oil your hair:
It's recommended to oil your hair one to two times a week, or whenever you're looking to do an extra treatment. I don't recommend oiling every day as it can remove your natural oils and attract dirt to the scalp. Before oiling, the scalp should also be clean. This will help the oil properly absorb. Apply the oil to the roots, massage in, and leave for about an hour before washing it out.
Additional Tips:
It's important to be mindful of how much oil you're using. Start by applying at the roots and using the excess for the rest of your hair. Over saturating the scalp can clog the pores leading to dandruff and later hair loss. Hair oiling is used to encourage hair growth and health but too much oil can unsettle your scalps natural oil balance. I recommend using a few spoons or pumps of oil for the scalp or warming the oil to help with circulation. Be sure to fully wash out your hair to avoid excess oil buildup.
A few of my favorite products I love incorporating into my hair oiling ritual.