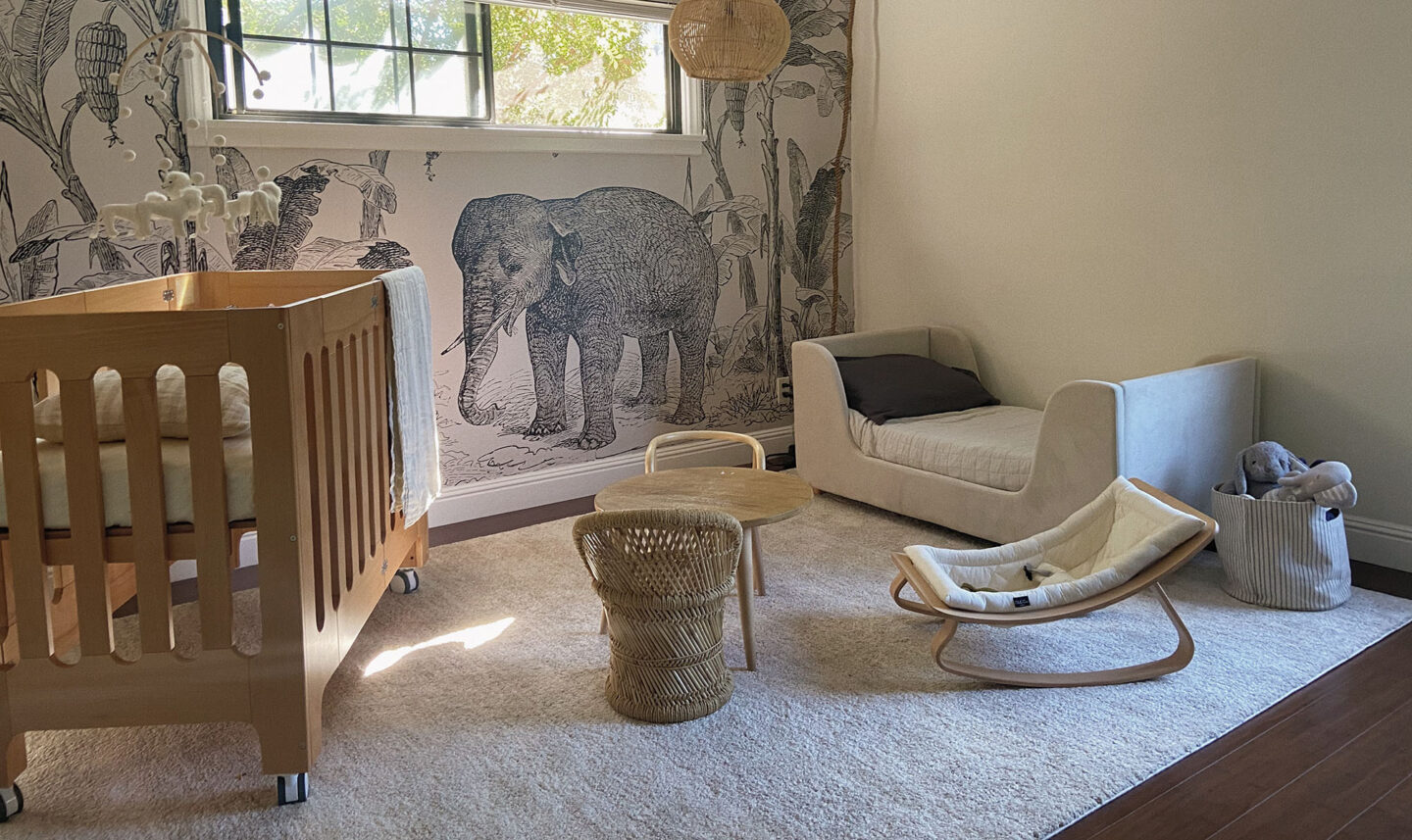 Build a timeless foundation.
When designing Noah and Liam's room we planned a gender-neutral space as we hadn't found out Liam was a boy yet. Although in the end, we could have stuck to a more "standard" boy palette I love the versatility of neutrals that we decided on as the backdrop. Paired with natural wood tones and an emphasis on textures, their room feels calming, open, and airy making the boys feel comfortable not only sleeping in but also being in all throughout the day. I also wanted to make sure both boys could keep growing in the space without me feeling like I needed to redecorate, paint the walls, or refurnish. The bonus to this specific aesthetic is that if we ever want to include color we can easily add bold bedding, new curtains and custom window shutters, as well as a bright rug to instantly refresh the space.
Design the space to be one that you love to be in too.
Caleb and I knew we would be spending a lot of time in the boys' bedroom so it was imperative to create a space that was equally pleasing to the adults in the house as it was for the kids. Every detail in the room was designed with this in mind which ended up creating a cozy, welcoming, and soft space for the entire family. As furniture will take up the most space in any room I opted for pieces that were well made and timeless (and I might still add things later on, like one of these beautiful cedar chest furniture pieces). I love the idea of finding little versions of things I would personally own; Noah's chair and bed are my absolute favorite furniture pieces in the room. I also absolutely love the main light in the bedroom. Before considering the kind of tones and the overall style/theme of the room, I had found this gorgeous pendant light that was from a similar site to pagazzi.com (for more information, click here), however, we felt it was a little too modern for the kids' room and went for a bamboo looking light instead – and I have no regrets!
Get your child involved.
Noah was very involved in choosing many of the larger details. To encourage his input I would give him a narrowed down assortment of ~5 selections per category: bed, wallpaper, bedding, etc. By narrowing it down I ensured all details remained within my theme while also empowering him to choose details that made him feel like his room was filled with objects he connected with. My favorite detail he chose was the wallpaper. Wallpaper has the power to give the entire room a makeover and/or instant theme. He's definitely our son as he opted for the elephant mural (Loxodonta Vintage Explorer Wallpaper Mural — from Murals Wallpaper which the brand custom makes to the dimensions of any wall.
Tailor the space to your child.
First and foremost, above anything else all objects are durable. The tepee was perfect for this room, Noah loves hiding under things and making makeshift forts. I chose a plain canvas tone to flow with the neutral room. We chose a small rug by Justina Blakeney and layered it with a sheepskin from Loom and Kiln inside his tepee to make lounging in there ultra cozy. Noah is a wild sleeper so finding an aesthetically pleasing bed that also provides safety from him falling off the sides of the bed was really important. We went with the Bodhi bed by Karla Dubois in Almond. The rug was also a big decision – with Noah spending a lot of time playing on the floor and Liam using the same space for tummy time I decided against something shaggy (hello bits of play doh and mystery items hiding in the rug) and instead went for this rug Loloi Rugs that is thick, plush, and cushioned. On the topic of the rug, it's important to talk about size. The specific rug we decided on takes up half the room wall to wall which makes the room appear wider and brighter. A smaller rug wouldn't tie in the space so well.
Work with the space you have.
Especially when working with smaller spaces creating mini environments can completely change a room both in style and in flow. As both the kids have to feel excited to be in their space we took Noah's favorite activities and created 3 play lounge environments within the room – a sitting area with his table where he could color or work on puzzles and legos, a tent where he can camp while in his jungle room (it also doubles as a storage space for extra toys, we have mini baskets in there with some cars and stuffed animals), and lastly his kitchen area as he's been obsessed with cooking and entertaining his guests like mommy and daddy do. Note the boys' table is actually a coffee table.Turns out that coffee tables are the same dimensions as kid's tables. I was able to widen my range of chic functional options when I searched for coffee tables as opposed to kid's tables. The crib was also a really important choice when designing the functionality of the room. Not only is it beautiful but it's on wheels so I can roll it around and it even folds up to easily pack away, making it super convenient for tighter spaces.
Opt-out things that you won't consistently use.
We didn't bother with a diaper changing table – I had one before and barely used it. Many people keep a rocking chair or daybed if they're breastfeeding, I had purchased one but it didn't work in the space so I put it in our office in the room next door. If I need to use it I just go there in the middle of the night.
LIST OF ITEMS IN OUR BOYS' ROOM:
Furniture
Bedding
Striped Linen Baby Sham by Parachute
Decor
Loxodonta Vintage Explorer Wallpaper Mural
Mobile by Hello Birdie Birdie (use my code STELLA15 while shopping)
Lighting and Devices
Sierra Pendant from Palma Shop